S. E.   A M A D I S
I'm so THRILLED to welcome you to my site. Here you can download your free book as promised. It's available in both mobi format (for your Kindle reader) and as PDF.
(If you don't have a DropBox account, don't worry. Just click the tiny little link in the tiny letters at the bottom of the box that say "No thanks" and you will be directed to the download page.)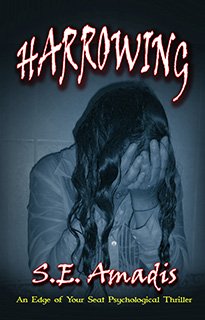 Mobi:
https://www.dropbox.com/s/b84zrgsfmpvt38n/Harrowing.mobi?dl=0

PDF:
https://www.dropbox.com/s/zpdjj935k9xztde/HARROWING%20COMPLETE%20for%20Subscribers%20Locked%20PDF.pdf?dl=0

Once again thank you for subscribing. I very rarely send out newsletters (yes I am lazy haha!) so I will very occasionally shoot one out to you, just to sort of remind you that I'm still alive haha. And to tell you about my latest news, upcoming releases and maybe the occasional freebie or exclusive offers, if I ever come up with any.
Until the next time we chat, ENJOY your free book! And remember, if you enjoyed it, I've got some more you can read up on Amazon. In fact, I'll even give you the link here, to make it as easy as possible for you to acquire more fun stories from me hint hint hehe:
Or click here to return to the main site: